KitchenAid at Capital Distributing
In 1919, the KitchenAid Stand Mixer was born, changing the way American's prepare food in their homes forever. While the company has since changed, this foundational product established KitchenAid as one of the largest appliance brands in the country. KitchenAid focuses on making products for the kitchen only, and the design of all their products has become iconic. They offer a variety of counter top appliances, refrigerators, dishwashers, ranges, ovens, grills, and many more quality cooking appliances. Capital Distributing and KitchenAid have formed a long-lasting partnership, as Capital continues to offer Dallas and all of North Texas a wide selection of KitchenAid appliances in it's 18,000 square foot I-35 showroom featuring over 50+ different brands of appliances in an actual kitchen settings. This amazing showroom enables you to touch, feel and imagine how each appliance would fit into your home.
Come by our showroom today to experience the way KitchenAid appliance shopping should be.
Come by our Showroom for details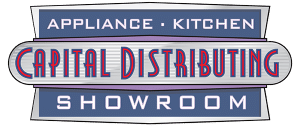 Showroom Location
2910 N Stemmons Freeway Dallas, Texas 75247
Phone: 214-638-2681 or 1-877-638-8800 
Email Us: info@capitaldistributing.com