Interested in scheduling your Thermador Appliance Cooking Demostration at Capital Distributing?
Contact us here.
Cooking | Refrigeration | Dishwashers
REAL INNOVATIONS FOR REAL COOKS
Thermador, operating since 1916, has been creating revolutionary kitchen appliances ever since we introduced America to the cooktop, steam/convection ovens, and column refrigeration.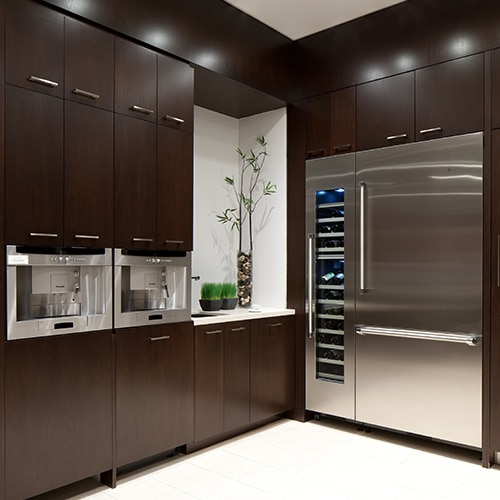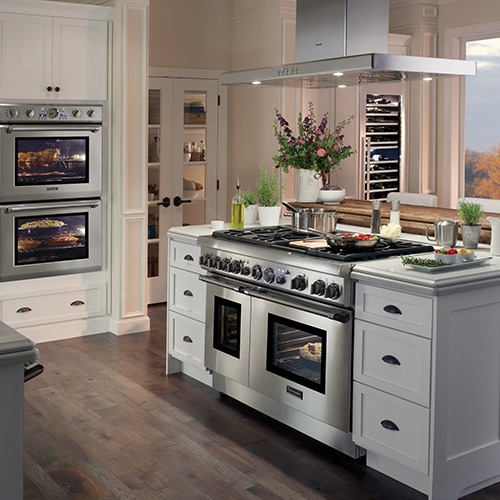 SUPERIOR
SHAPE
Unlike standard round burners, the patented Star® Burner star design creates more flame ports to produce a greater flame spread, while reducing cold spots, for more balanced cooking. Visit Capital Distributing, located in Dallas at 2910 N Stemmons Freeway, to see all Thermador cooking products. From the Pro Harmony and Pro Grand ranges to Induction, Gas and Electric Cooktops, we have it all.

CULINARY PRESERVATION
CENTERS
If you're looking for the flexibility to personalize your kitchen, while maintaining function, our Culinary Preservation Centers are the answer. Our exciting array of refrigerator, freezer, and wine column configurations, will guarantee the perfect fit for any style home. If you're a professional chef or just enjoy cooking at home, visit Capital Distributing and let us help you through the appliance selection process.

STEAM OVEN
REVOLUTION
Our steam & convection ovens are unrivaled for performance, flexibility and lock in the flavor you want while maintaining the healthy nutrients you require. Explore our timeless Professional and Masterpiece® Series stainless steel appliances today. At Capital Distributing, we offer cooking demonstrations on Thermador appliances to help ensure you select the right cooking appliances for your home.


Typical appliances come with standard features, without a substantial effort to innovate and improve the culinary experience. Thermador is known for raising the bar by inspiring new standards for refrigerators, ovens, cooktops, and a variety of modern appliances. Thermador provided the innovative ideas that introduced today's standards, such as convection ovens, steam ovens, and the revolutionary concept that your appliances could be personalized according to your preferences.
At Thermador we continue to create what is sure to become the standards of the future. We took on the challenge of solving the problem caused by typical cooktops: uneven flame spread and hot and cold temperature differences on cooking surfaces. The Thermador answer: our revolutionary star design provides an increased number of flame ports to deliver greater spread of the flame, and creating an even cooking temperature.
CULINARY PRESERVATION CENTERS
What if your refrigerator, freezer, and wine didn't have to be constrained to a standard, oversized, bulky location, but instead could be fitted in ideal spaces that enhanced your kitchen? Thermador's Culinary Preservation Centers are an exclusive offering from Thermador that allows you to personalize your space to reflect your presentation, preparation, and preferences. With Thermador, you don't have to restrict your kitchen ideas to fit fixed standards.
Set aside the pre-conceived restrictions that exist with typical appliances, and come and see the unique and inventive features available in our array of refrigerator, freezer, and wine column configurations, and find the perfect fit for you. 


Completely customize your kitchen by finding all the right appliances that fit your needs and lifestyle. We make it easy with our popular ONE-TWO-FREE® program.
Here's how it works: Choose your favorite features, consider how they will work together and function as your perfect kitchen combination, add any of our unique kitchen design details, and end up with savings up to $8,546. 
You've Never Seen Any Appliances With The Unique Function And Innovative Ideas Like Thermador –
And You Can't Top The Experience You Will Have At Capital Distributing.
Thermador manufactures a full line of kitchen appliances and grills.
www.thermador.com
Showroom Location
2910 N Stemmons Freeway Dallas, Texas 75247
Phone: 214-638-2681 or 1-877-638-8800 
Email Us: info@www.capitaldistributing.com