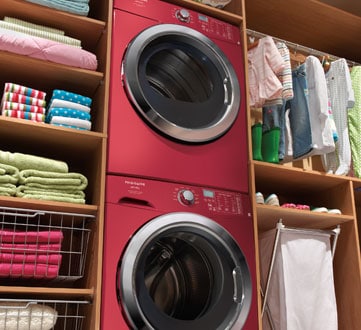 New Washers And Dryers That Set The Standard –
Appliances Are In Stock In Our Dallas Showroom
Laundry appliances should clean and sanitize your clothes and bedding without shortening their life.  Don't subject your expensive clothes and bedding to inexpensive laundry thus shortening their life span. Let us help you select the laundry that will fit your budget and save you money over time.
There are several important factors to consider when looking for your new laundry set such as: performance, efficiency, capacity, noise and washing style. 
Washing machines are available in 2 styles:  Top Load or Front Load. Most top load washers clean with an agitator on a vertical axis turning the clothes back & forth to clean. However, some newer top load washers have eliminated the agitator and use an impeller to clean. These units can also rival front load washers for efficiency.  Front loaders use a drum on a horizontal axis and turn the clothes from the bottom of the drum upwards creating a tumbling wash action. Front load washers have become popular due to their superior cleaning ability, efficiency and gentleness on clothing.
Front Load Washers And Dryers
With All The Technology And Advantages Of Modern Appliances
 Pros:
Efficiency – use less water, energy & detergent.
Larger capacities
Higher maximum spin speeds, typically between 1,100 – 1,300 rpm, which extracts more water for faster drying times
Gentler on clothes
Quieter
Cons:
Typically cost more & require high efficiency detergent to prevent oversudsing
Some maintenance needed to prevent mold growth from moisture in the door gasket 
Browse Front Load WashersBrowse All Dryers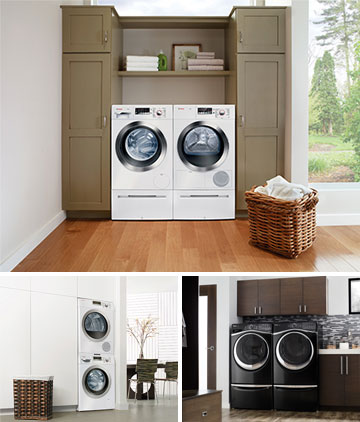 We Offer A Variety Of Washer And Dryer Appliances In Our Dallas Showroom
With All The Features You Could Want In A Modern Appliance
Pros: 
Cons:
Less efficient- typically use more energy & water
Slower spin speed, typically between 750 – 1,100 rpm which increases drying time
Rougher on clothes due to agitator
Can't be stacked
Noisier
While at Capital, be sure to check out our other specialty Laundry Room products and let us help you make your dream Laundry Room one that you will enjoy for years to come!
Rotary Irons are the smart way to iron clothes and linens quickly and efficiently.
Specialty Washers and Dryers: We offer specialty laundry for equestrian, fire house, bed and breakfast and larger washing applications.
Vacuums: We are a vacuum dealer for Miele vacuums.