For a limited time, receive $100 off select dishwashers via online redemption. Promotional models include:
$100 OFF SELECT DISHWASHERS | G 4228 SCU  Promo price: $899 | 4977 SCVi Promo price: $1,099 |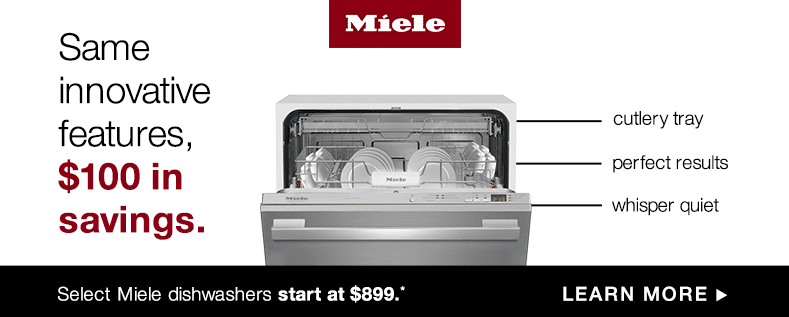 PROMOTIONAL TIMING
step:1 Purchase applicable Miele products between
January 1st – February 22nd, 2020
step:2 Pre-register your order www.mielerebates.com
step: 3 Receive delivery by April 30th, 2020
step:4 Complete your rebate claim by returning to
www.mielerebates.com by May 31st, 2020
step:5 Allow six to eight weeks for fulfillment (post submission)
Redeem Rebate Here


Visit the MIELE INNOVATION CENTER at Capital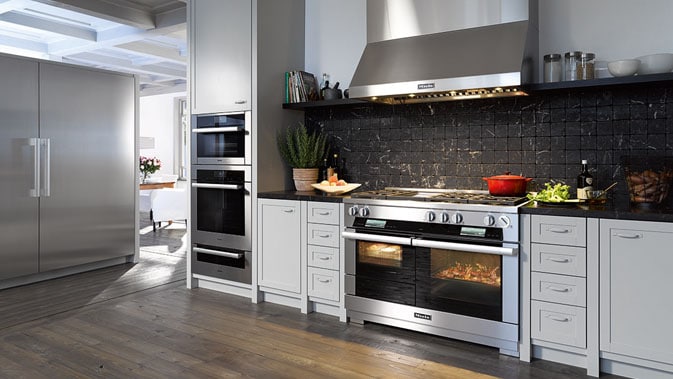 Experience the Miele Difference in Premium Kitchen Appliances.
Bringing German engineered domestic appliances to American households.
Ranges | Ventilation Hoods | Downdrafts | Convection Ovens | Speed Ovens | Steam Ovens | Combi-Steam Ovens Microwaves | Vacuum Drawers | Warming Drawers | Induction | Electric Cooktops | Gas Cooktops | Built-In Coffee Machines | Refrigerators | Freezers | Wine Units | Dishwasher | Washers | Dryers | Small Appliances
PRODUCT HIGHLIGHTS
REFRIGERATION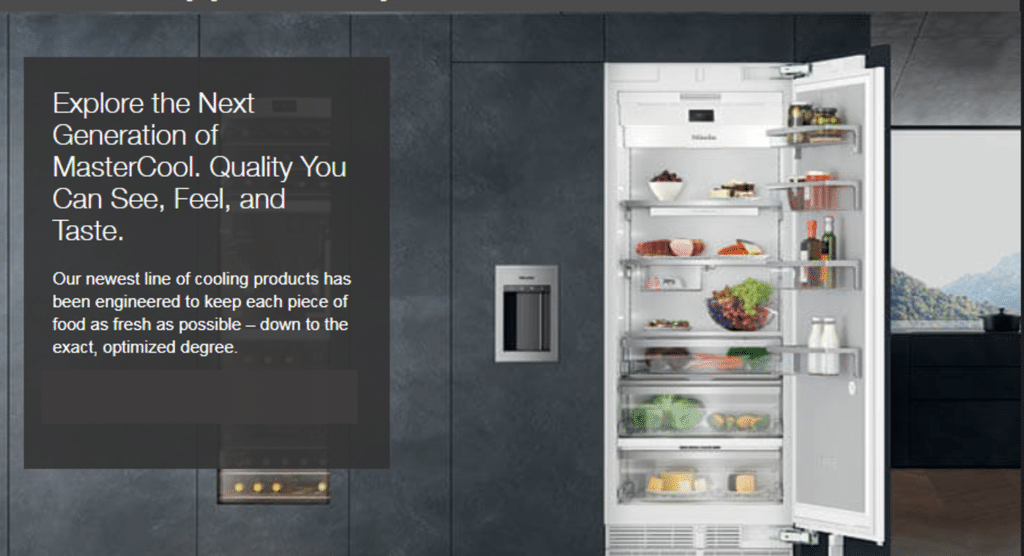 Miele refrigerators are designed to keep your groceries fresh in an efficient and well-organized way. Choose from an impressive range of "Your Miele" models: Built-in appliances with a height of 33 in to 70 in.
Push2Open Next generation MasterCool appliances allow for a handleless design. Simply apply slight pressure to the door and it will open gently to an ajar position.
Brilliant Light Efficient and durable LED lighting ensures perfect interior illumination. With SoftStart functionality – gradually increasing its intensity to full brightness.
MasterFresh Drawers In humidity-controlled MasterFresh drawers, your food is stored in individual micro-climates. Your food – especially fruit and vegetables – stays fresh up to 5x longer.
WiFiConn@ct With WiFiConn@ct you can conveniently connect your Miele appliance to the internet via WiFi. Check appliance status when you are home or away, receive notifications, or use the Miele online shop to place orders.
COOKING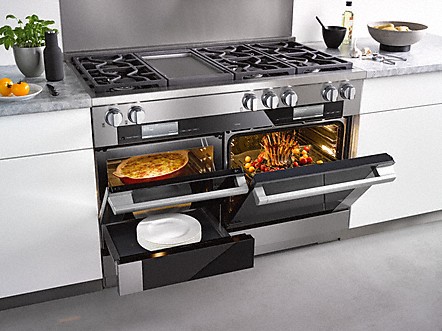 The Range is available in different power configurations (Dual Fuel, All Gas, Electric and Induction), to meet the needs of every customer.
The sizes of Miele Range Miele's 30 in, 36 in and 48 in wide Range appliances are designed to fit in any kitchen. Shown Above: Featuring a unique 3-door concept, Miele's 48″ Range includes a fully functional M Touch Speed Oven, M Touch Convection Oven and a Push-to-Open Warming Drawer. *Features depend on this model
Heating Styles for Individual Cooking Habits Recognizing this need for flexibility, Miele delivers powerful, even heat… at a level of control you can trust. Recognizing this need for flexibility, Miele delivers powerful, even heat… at a level of control you can trust.
Intuitive Operation and Precise Controls Achieving results quickly with an innovative touch display: the M Touch display is simple to operate and self-explanatory. An intuitive swipe of the screen will quickly lead you to your desired selection. Whether you would like to access an operating mode such as Convection Bake or one of your favorite programs, the display is clearly arranged with easy-to-operate sensor controls.
Operating Modes Rotisserie, Gentle Bake, Broil, Intensive, Gentle Bake, Convection Roast, Sabbath, Auto Roast, Maxi Broil, Convection Bake, Moisture Plus, Surround, Bake, Special Modes (for thawing, dehydrating, heating up or quick pre-cooking), Favorites
Moisture Plus Improved roasting and baking: Moisture ensures an incredibly light dough and a nicely browned crust
Crisp Function For a crispy finish: Some food is cooked better using dry heat, such as pizza or french fries
TwinPower Convection Blowers and Power Convection Blower Quickly ready for use: 2 hot air blowers heat the oven very rapidly with optimum hot air distribution
Other Functions Over 100 MasterChef Automatic programs, Timer Function, Individual Settings, Bread Programs, ComfortSwivel Handle, Save Your Favorite Dishes, Soft Open and Soft Close
PRECISION PROBE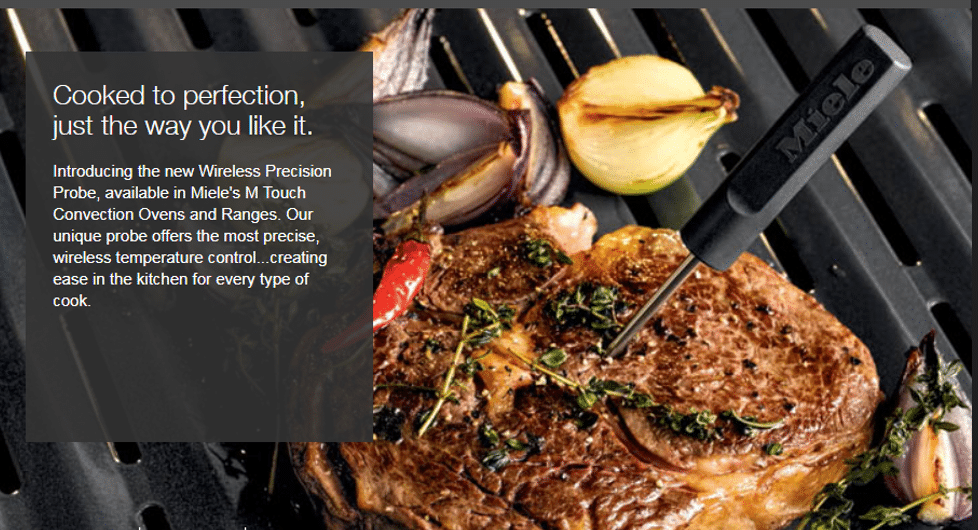 Introducing the new Wireless Precision Probe, available with Miele's M Touch Convection Ovens and Ranges.
Precise Control With 4 measuring points, the Miele wireless precision probe is especially great when cooking thin cuts of meat or fish. Not only is it extremely accurate, it takes the guesswork out and makes preparation that much easier!
Wireless Technology Our unique probe is wireless – making it extra safe and easier for handling.  As a bonus, it's also dishwasher-safe!
LAUNDRY
Save money and be environmentally friendly: Miele Professional commercial laundry appliances are impressive with very low consumption values and are known for maximum efficiency. 
Quality and Performance Since 1899, Miele has created thoughtfully designed, precisely engineered home appliances that fulfill the company's founding promise of 'Immer Besser' – a German phrase meaning 'Forever Better'. We are fully committed to discovering and developing ways to help our customers 'live better'.
Convenience With the new 'TouchControl' user interface, Miele has perfected the ease of use for the new Classic models, providing a simple way to select wash programs. In about 30 minutes, the 'Express' cycle saves both time and energy with unmatched results. And with the dryer running on a 120v outlet, you can install your machines anywhere within your home (without the need for ducting).
Fabric Care Cap Dosing allows perfect wash results on items requiring special treatments like woolens and outdoor clothing.  Miele's patented honeycomb drum ensures your fabrics are handled with care. Choose either a standard program or customize for your individual fabric needs.
Efficiency Finally. An efficient machine that fits all your stuff without taking up all your space. Miele prides itself on being energy efficient and is a proud partner of Energy Star. The T1 heat-pump dryer not only saves 60% in energy but provides comparable drying times to traditional dryers. For smaller loads, select 'SingleWash' which dramatically saves water, energy, and time.
WHOLE BEAN COFFEE MACHINES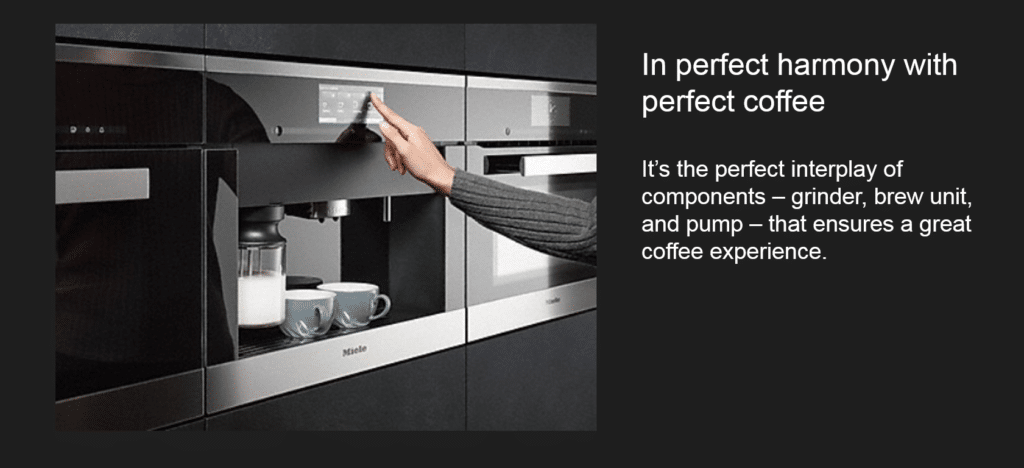 Drink Specialties Espresso, Long Coffee, Cafe Latte, Coffee, Cappuccino and Latte Macchiato
User Profiles Your Choice: Up to 10 individual user profiles for your personal coffee experience
ComfortDoor | Exclusive to Miele Easy access: Convenient access to bean container, water container, waste container and drip tray.
Comfort Clean Thorough cleaning and maintenance of value: many components are dishwasher-safe
EasyClick Milk System | Exclusive to Miele Innovative and only from Miele: The milk system simply clicks into place at the front and is as easily removed
CupSensor | Exclusive to Miele Ideal Distance: The CupSensor recognizes the height of the cup and positions the central spout accordingly
Automatic Rinsing of Water Container Milk Pipework Excellent user convenience: "After making special coffees with milk, the machine is cleaned automatically
Easy Cleaning Machine hygiene made easy: Removable components and automatic cleaning processes guarantee cleanliness
OneTouch and OneTouch for Two Single or Double: Extra Program for making one or two expressos, coffees, cappuccinos, etc.
Easy to Use Smart functions: just one touch to serve a single or double dose of delicious coffee, including cup detection
Coffee Pot Function Convenient when having guests: Up to eight cups of coffee are produced for your visitors or for a meeting
Timer For coffee when you want it: Switch-on and switch-off times can be programmed as required
Ground Coffee Chute Quick and to your taste: "There is no need to change the beans for a second type of coffee, e.g. decaf coffee"
Available Plumbed or Not Plumbed
WINE UNITS
Different styles to choose from: Built-In, Under Counter or Freestanding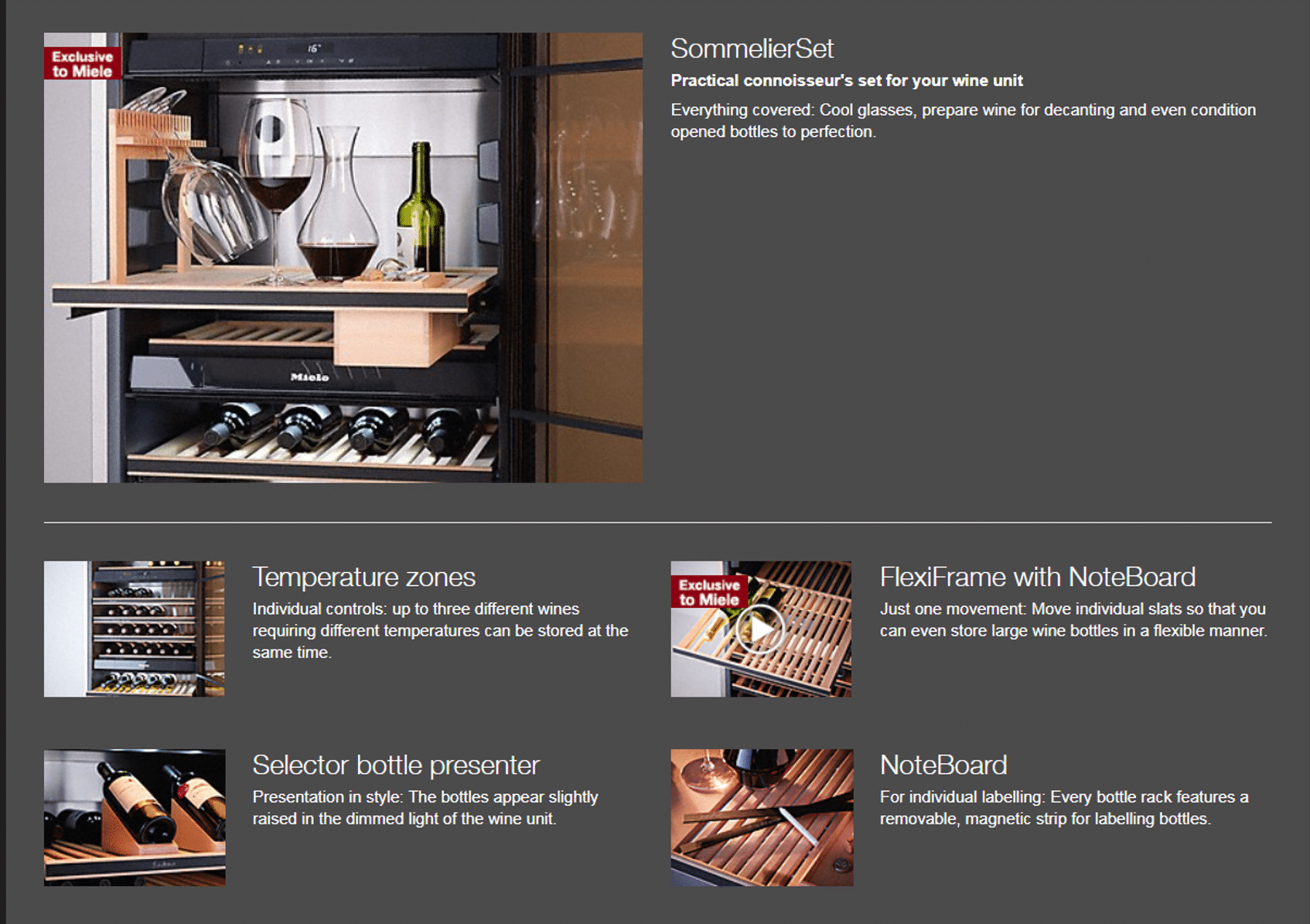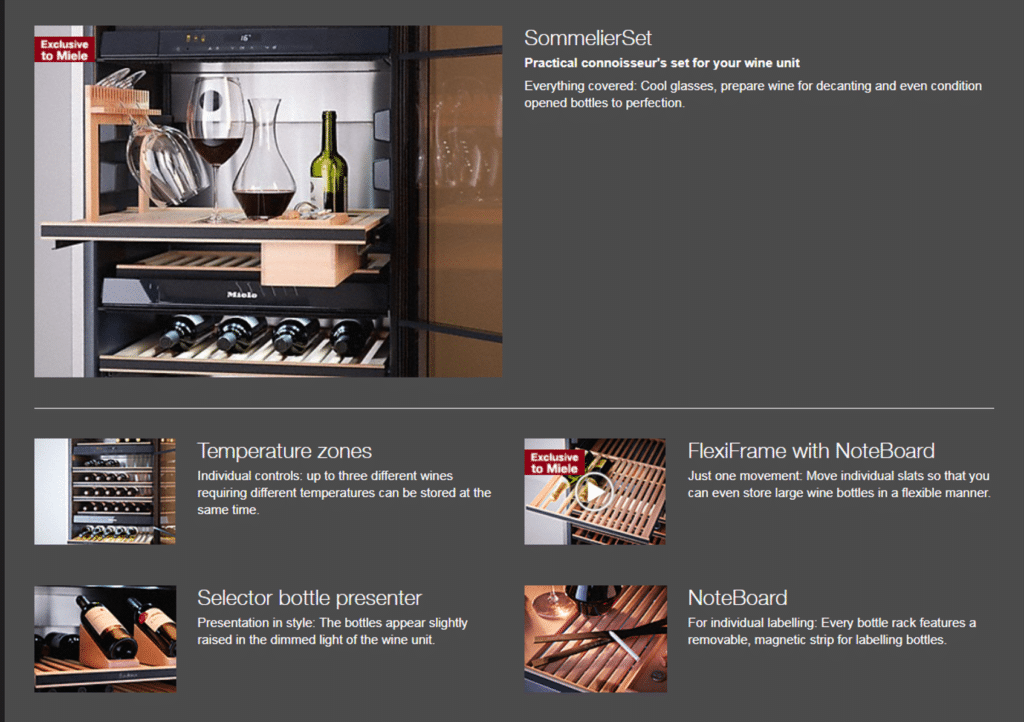 Many good reasons for choosing Miele.   Here are just six of them.
Since the company was founded in 1899, Miele has remained true to its 'Immer Besser' brand promise. This means that we will do all that we can to be' forever better' than our competitors and 'forever better' than we already are. For our customers, this means the peace of mind of knowing that choosing Miele is a good decision – and probably the decision of a lifetime!   source:www.mieleusa.com
1. The Miele quality
For more than 120 years perfect results have been imperative to us: you can rely on Miele. We are the only manufacturer in our branch of industry to test products such as our washing machines, tumble dryers, dishwashers, and ovens to the equivalent of 20 years' of use. We can thereby offer you unique reliability and peace of mind. This explains why Miele customers around the world remain true to their brand and recommend Miele to others.
Looking to the future, we will not entertain any compromises when it comes to the reliability and durability of our appliances.
2. Miele technology
Miele stands for fascinating technology and excellent results combined with minimum energy consumption. This applies to the hygienic and gentle care of your laundry, your flooring and your dishware as well as when conjuring up exquisite culinary delights. The key to this is a wealth of innovative features available only from Miele.
This is born by numerous first places in leading product tests conducted around the world.
3. Miele convenience
Miele stands for true craftsmanship, combining vision, precision and a great deal of attention to detail. Each product is manufactured to the highest standard and is subject to stringent quality controls including individual surface tests with gloves. From handles milled from a single piece of metal to matching gap dimensions across all product groups, each element is part of our journey to absolute perfection. Nothing is more important to us than that you enjoy Miele for a long time.
4. The Miele design
Miele believes in clean lines, timeless elegance and intuitive handling. Whether operating a conventional rotary switch, discreet sensor controls or a high-resolution touch display: operating a Miele is both easy and fun.
Nowhere else will you find such a comparable range of carefully coordinated design lines and color options, to suit the most diverse kitchen furniture fronts. Whatever the style of your kitchen: Miele is the perfect match.
5. Miele Service
Miele customers enjoy preferential treatment: thanks to our fast and efficient after-sales service operation which has been voted best in its branch of industry many times over. If you need personalized instructions on appliance use or professional cleaning of your appliances, Miele will gladly visit you at home.
We will always be there for you. That's a promise!
6. The Miele brand
In many countries, Miele is the most coveted brand in its branch of industry. On its own home market in Germany, Miele was even voted 'best brand ever' , across all product branches. And the ownership of products from such a brand reveals much about its users: Miele customers have high expectations for the performance and the environmental friendliness of their domestic appliances. People who buy Miele are quality conscious and have style.
source: www.mieleusa.com
EXPLORE
Explore Miele's full line of premium kitchen and laundry appliances.
Shop Miele at Capital Distributing
214-638-2681 | 2910 N Stemmons Freeway Dallas, Texas 75247
Questions?  info@www.capitaldistributing.com