Join us Saturday, June 3oth at Capital Distributing for a live cooking demo with BLUESTAR
WHY BLUESTAR
If cooking feeds your soul, not just your guests, only a BlueStar kitchen can satisfy. We craft every burner, shape each door and hinge, and hone every detail to fuel your passion. What better way to learn about BLUESTAR than to experience their products first-hand!
https://www.bluestarcooking.com/news/events/
BLUESTAR UNLIMITED CUSTOMIZATION
From endless colors to unique trims and configurations, BlueStar products enhance the look and feel of any kitchen.
*750+ colors and textured finishes
*10 metal trim options
*Custom cooktop and door configurations
BLUESTAR PERFORMANCE
Robust power and unrivaled precision demanded by serious home cooks.
*25,000 BTU burner ranges
*Dual-compressor refrigeration
*Pro-style ventilation
BLUESTAR CRAFTSMANSHIP
High-caliber construction. Unparalleled function. 130 years of expertise.
*Made in America since 1880
*Exceptionally durable construction
*Commercial-grade materials
Join us this Saturday, June 30th at Capital Distributing to learn all about BLUESTAR and to see it live!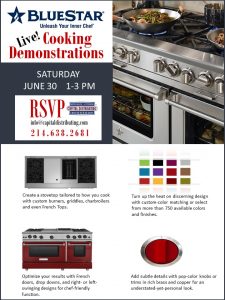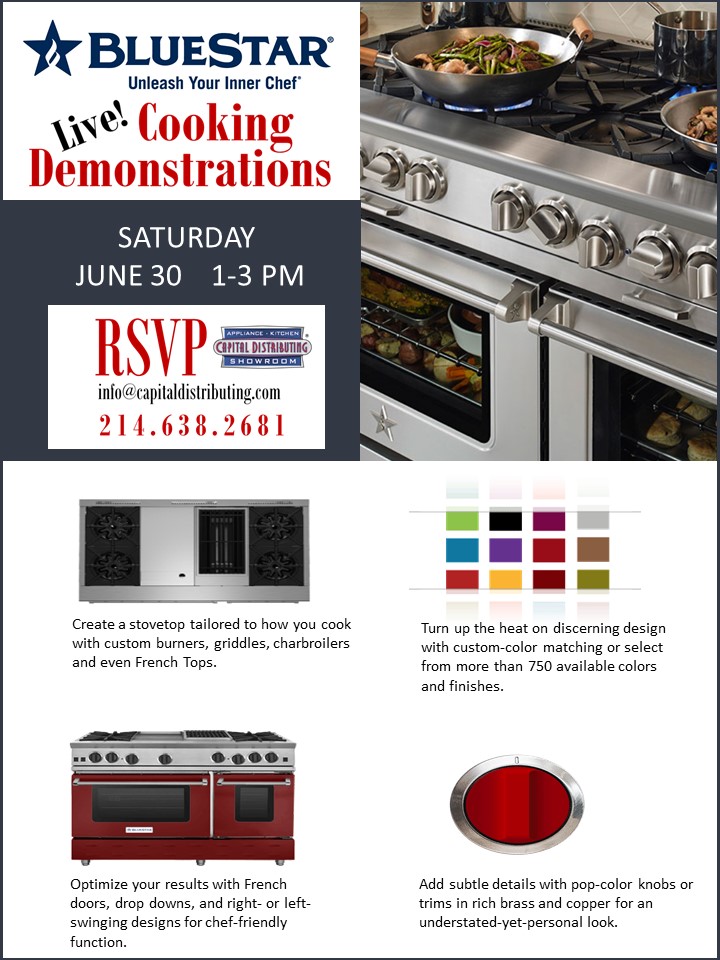 RSVP to: info@capitaldistributing.com
214.638.2681